MY APPROACH
To make your body equipped for the life you want to live.
I support you to create harmony in all aspects of your life:
Create a symmetrically toned body with even musculature to detect and prevent over- or underworking muscles and compensation patterns

Improve physical movability and stability

Fascial release work to improve skeletal muscle mobility or pain by relaxing contracted muscles, increasing blood and lymphatic circulation

Reduce unnecessary stress - in your life situation and in your body

Encourage you to focus on what brings you joy

Maintain a sustainable tempo of life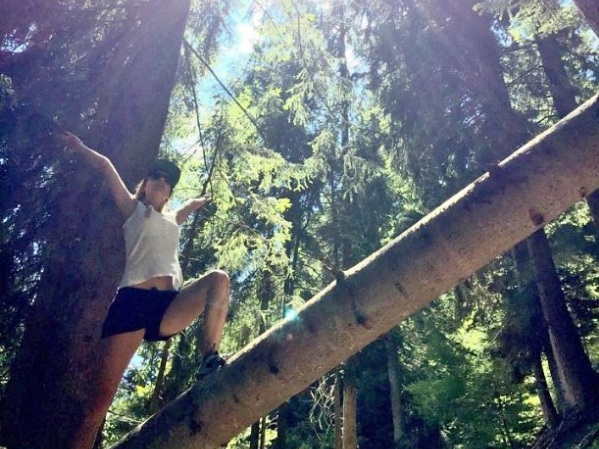 We are our own best healers. Our bodies know us better than our intellect does. All we have to do is listen and dare to trust our guts.
MY STORY
Born in Gothenburg with its salty winds, I moved with my advertising degree to Berlin 10 years ago. I struggled with painful joint inflammations, stomach problems and brain fog. It was a lonely journey figuring out what was wrong and no doctors could find the root of my problems.
My goal became to educate myself to be able to heal - and to help others in similar situations.
And thus, my journey through pilates and bodywork began. At the same time I started experimenting with my diet. Eating a low FODMAP diet helped take down my inflammation. Shifting to AIP - Anti Inflammatory Paleo - helped heal my intestine and figure out what other eatables triggered my immune system.
When I was diagnosed many years later with my autoimmune disease I had already come a long way on my healing process. These practices had gave me all the tools I needed to turn my life around to be sustainable.
Release work, meditation, life balance, relaxation techniques, acknowledging the rhythm of your body.
By getting to know your own body and mind, you can self learn to release tensions and scan what your body needs right now. Physical and emotional health belongs together. At stress - our jaws bites hard and our shoulders curl up under our ears. Our physical body responds to our minds in many similar ways. Through the Peripheral nervous system the body sends information between the brain and the different organs and muscles. Are we nervous - our stomach will be nervous as well, as well as if we're having stomach problems, we easier will feel sad, anxious, depressed or stressed. It all goes both ways.
Therefore my work also address our entire bodies - Through pilates we strengthen our bodies, make sure each muscle works their right function, helping us becoming strong, aligned and physical well balanced. With yin yoga we release physical tensions and keep our fascias healthy and make sure the peripheral nervous system can work freely, in the same time we're practicing different meditation techniques. Pantarei is a private session where you get further help from me to relax your body, release tensions and visualize your inner thoughts.
Studies
Certified Pilates Teacher Training 2014 Berlin
@ Pilateslab, 1 year. Classic and contemporary Exercises for mat and small equippment, teaching methodology, anatomy, assisting in class, building a class, queues and hands on. Teaching own clients.
Certified Teacher Training Yin yoga 2017 Bali
@ With-yinyoga, 100 hours. Poses, anatomy, meridians, meditations techniques, teaching methodology and philosophy.
Pantarei Practicioner Certification 2018 Berlin
@ Pantarei Approach, 1,5 year. Touch, conversation, dealing with trauma, encouragement, energywork. Case studies, practicing sessions and treating own clients.
Courses among others:
Private therapeutic pilates studies for Nicola Conraths, 2013 Michigan
Private Pilates studies on Reformer, Tower, Chair and Cadillac for Master Trainer Joanna Mountifield, 2018
"Shiatsu und Qigong - Achtsamkeit Verkörpern" (Embodying Mindfulness) w. Susanne Heil
"Yin Yoga– a closer look at the physical, energetic & mind related aspects of the practice" w. Liina Tael
"Body-Mind Centering® Space, Suppleness & Ease" w. Nina Wehnert
"Pilates and osteopathie" w. Kirsi Sabri
"Pilates/rythmus and intuition" w. Marion Röhrig
"Pilates/intelligent bodywork and shiatsu" w. Anja Kurasawe
"A3 Open the gait - Gangschule PPA008-13" w. Karin Klinke
"Die urkraft der Beckenboden" (power of the pelvic floor) w. Marion Röhrig
"Moving beyond pilates - Psoas' & finding mobility & stability" w. Laura Hicks
Continious self studies, classes and seminars within
Pilates tower

HSP

Pilates in water/ water gymnastics

Oov

Parasetter

FOD MAP diet

AIP - Autoimmune Paleo diet

Shiatsu

Vinyasa yoga

CAR - controlled articulated rotations

Mediation

Body-Mind Centering

Tai chi/chi gong